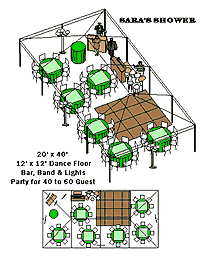 When you rent a Party Plus enclosure you can be assured of proper setup and removal. Our computer designed floor plans give you a visual picture as to how your guest's seating order, decorations & ceremonial events will look, before the event takes place. Our professionals will visit your site to survey for landscape issues, access and any unforeseen obstacles that could pose a problem. We take great pride in our ability to deal with any special circumstances that may arise. Please take a look at the examples below.
You may click on any "Layout Sample" for a larger view.
These can be customized to meet your specific needs...
Number of Guests
Tent Size
Layout Sample
25 TO 50
20 x 20
KENDRA'S GRADUATION
"
20 x 30
"
20 x 40
SARA'S SHOWER
"
20 x 40
KEN'S CEREMONY
50 TO 75
20 x 40
DOMINIQUE'S CONCERT
"
30 x 30
TIM'S COOK-OUT
"
30 x 40
LEA'S WEDDING
75 TO 100
30 x 40
MICHAEL'S MEETING
"
40 x 40
NANCY'S NUPTUAL
"
30 x 50
SCOTT'S SOIREE
100 TO 150
30 x 50
ROBIN'S HOLIDAY BASH
"
40 x 40
HEATHER'S LUAU
"
40 x 60

A

150 TO 200
30 x 60
DION'S BARBEQUE
"
40 x 60
WALTON FAMILY REUNION
"
40 x 80
MATT'S MATRIMONY


Return to Tent & Canopy Rentals

Do I need Permits for my event?

Massachusetts

Clients are generally surprised to learn that a permit may be required for their event rentals. As an event company, we are very involved with many of the local Building and Fire Departments. We work diligently to stay up to date on the state building and fire codes and the town by-laws. We are always educating ourselves and our clients as the policies are ever-changing and, in many cases becoming more strict.

If you are installing a small canopy for a backyard party, chances are you just need a simple building permit for the tent. However, if the tent is 400 square feet or less, you are off the hook in most towns. Some of the more complex installations with larger tents, heat, power, sidewall, large guest counts, etc… will require more advance permitting from several departments.

So, if you are planning to have a large-scale event at your residence or public venue, we recommend you ask your vendor if permits will be required. You can also call the Town Hall yourself or look online. Many town departments have information online and sometimes you can even apply online to save on running costs. We understand permits can add to the cost and logistics of planning an event, but they are designed to look out for your best interest and the safety of your guests.